Trump's Transportation Secretary Elaine Chao Could Collect Millions From Wells Fargo For Taking Government Job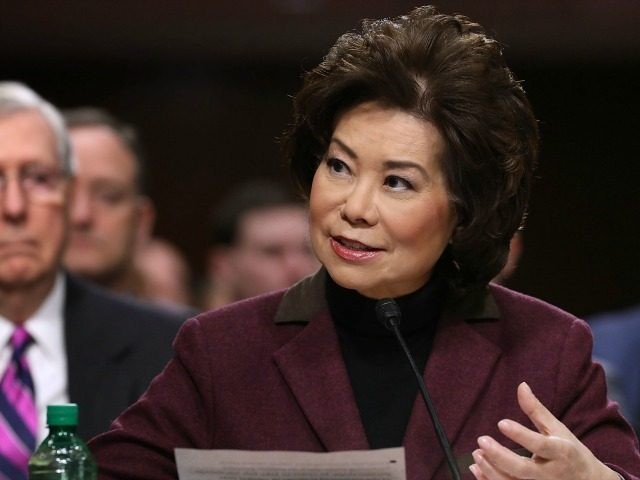 Elaine Chao, Donald Trump's nominee to head the Department of Transportation, could collect up to $5 million in Wells Fargo preferred stock after assuming her new role in the Trump administration.
According to financial disclosure
forms
, Chao will receive a "cash payout for my deferred stock compensation" upon her confirmation as Secretary of Transportation. The annual payouts will begin in July 2017 and would continue through 2021.
"This is a golden parachute for government services that the large banks are now increasingly famous for offering. It is not illegal yet, but it does provide the former employee with substantial financial rewards from Wells Fargo, potentially creating a sense of indebtedness from the government official toward the bank," ethics expert Craig Holman
told
The Intercept after reviewing Chao's disclosure
forms
and Well Fargo's executive
compensation agreement
.
"
These golden parachutes for taking government positions are either a massively corrupting incentive structure — effectively a backdoor bribe to incoming government officials — or an abject waste of shareholder resources," Kurt Walters, campaign director for Demand Progress, told the outlet.
Chao, the wife of Senate majority leader Mitch McConnell, served on Wells Fargo's board between 2011 and 2015 and made an estimated
$1.2 million
for her services to the San Francisco, California-based bank. Coincidentally, 2011 was the same year the Obama administration-conceived Consumer Financial Protection Bureau
says
Wells Fargo began forcing its employees to "secretly open unauthorized accounts to hit sales targets and receive bonuses."
Nevertheless, Chao says she's committed to avoiding even the appearance of a conflict of interest should she become Transoprtion Secretary — citing her intent to submit a waiver or seek exemption if she engages in any matter that directly affects Wells Fargo.
To be sure, government job-triggered golden parachutes are nothing new. But they are precisely the kind of self-serving shenanigans Trump promised to stomp out.
Indeed, many of Obama's top appointees came from financial firms that allocate six and seven-figure payments to senior executives who accepted government jobs.
Secretary of the Treasury Jacob Lew left Citigroup with $500,000 stock options guarantees. Obama's Counselor to the Secretary of the US Treasury Antonio Weiss was set to receive $20 million in preferential stock and deferential payments from his previous employer, Lazard, upon entering government.
The news of Chao's corporate payday comes on the heels of reports that Trump nominee for Secretary of State Rex Tillerson will receive a
retirement payout
worth at least $180 million, should he be confirmed.
Wikileaks exposes Obama's bankster-infested
administration!
BARACK OBAMA …… the banksters' RENT BOY!
"Citigroup's recommendations came just
three days after then-President George W. Bush signed into law the
Troubled Asset Relief Program, which allocated $700 billion
in taxpayer money to rescue the largest Wall Street banks. The single
biggest beneficiary was Citigroup, which was given $45 billion
in cash in the form of a government stock purchase, plus a $306
billion government guarantee to back up its worthless mortgage-related
assets."
"As president, Obama not
only funneled trillions of dollars to the banks, he saw to it that not a
single leading Wall Street executive faced prosecution for the orgy of speculation and
swindling that led to the financial collapse and Great Recession, and
he personally intervened to block legislation capping executive pay at bailed-out
firms."
"So
when Clinton was hobnobbing with Goldman Sachs CEO Blankfein in 2013,
while investigations of wrongdoing by Goldman and the other
Wall Street banks were still ongoing, she was consorting with a man
who belonged in prison."
CRONY
BANKSTER LOOTING OF AMERICA
THEIR GOLDEN AGE OF PLUNDER IS NOT OVER!
NO PRESIDENT IN HISTORY SUCKED IN MORE BRIBES FROM BANKSTERS
NOR INFESTED HIS ADMIN WITH BANKSTER CRONIES MORE THAN OBAMA!
And
while the Obama administration worked systematically to bail out the banks and
make the financial oligarchy richer than ever, shielding the architects of the
Great Recession from criminal prosecution, it did impose fines for some of the
banks' grossest swindles, including the sale of worthless subprime
mortgage-backed securities, the rigging of key global interest rates such as
the London Interbank Offered Rate (Libor), drug money laundering, illegal home
foreclosures and other illicit activities.
BARACK OBAMA , HIS CRIMINAL
BANKSTERS AND THE LA RAZA
There's more than one way to
destroy America's white middle class!
HSBC laundered hundreds of
millions and perhaps billions of dollars for drug cartels responsible
for the deaths of tens of thousands of people over the past
two decades. The bank transferred at least $881 million of known drug
trafficking proceeds, including money from the Sinaloa Cartel in Mexico, which is known for
dismembering its victims and publicly displaying their body parts.